(West Palm Beach, Florida) -- In the wake of Mississippi's enactment of HB 1523, West Palm Beach Mayor Jeri Muoio became the first mayor in Florida -- and the second in the nation after Seattle Mayor Ed Murray -- to place a travel ban on city-funded trips to Mississippi.
HB 1523, which was signed into law yesterday by Mississippi's Republican Governor, Phil Bryant, allows people with religious objections to deny services to lesbian and gays and permits employers to use religious beliefs as justification in determining workplace policies.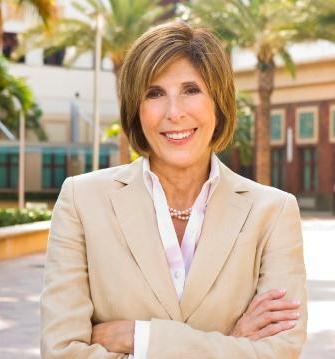 "For more than two decades, West Palm Beach has been in the forefront, protecting the civil rights and ensuring equality for the LGBT community," said Muoio. "
Until the discriminatory laws in Mississippi and North Carolina are repealed,
West Palm Beach taxpayers will not subsidize legally-sanctioned discrimination against LGBT people."
On March 28, Muoio became the second mayor in the nation -- after San Francisco Mayor Ed Lee - to impose a similar ban on travel to North Carolina following the enactment of another comprehensive anti-LGBT law in that state.
Mayor Muoio implemented the two travel bans at the request of the Palm Beach County Human Rights Council (PBCHRC), a local civil rights organization dedicated to ending discrimination based on sexual orientation, gender identity and gender expression. Since 1990, PBCHRC has been responsible for the enactment of more than 100 local laws and policies which prohibit discrimination against the LGBT community.
"Once again, Mayor Muoio has taken steps to ensure that taxpayers dollars will not be spent in places that discriminate against LGBT Americans," said retired judge Rand Hoch, PBCHRC President and Founder. "We commend Mayor Muoio for putting her strong beliefs against bigotry into action by prohibiting taxpayer dollars being used in both Mississippi and North Carolina."
Last year, Muoio was one of a handful of mayors who announced a similar travel ban to the state of Indiana, following the
wake of Indiana's passage of the Religious Freedom Restoration Act,

As the result of pressure placed on Indiana by civic leaders, businesses, and numerous other entities, the Indiana Legislature promptly amended the

Religious Freedom Restoration Act,by

specifying that the law could not be used as a legal defense to discriminate against patrons based on their sexual orientation or gender identity.

Following Muoio's announcement this morning, travel bans to Mississippi have been implemented by the governors of Minnesota, New York, Vermont and Washington as well as the mayors of.San Francisco and Seattle.