The PBCHRC Charitable Foundation has selected three local high school seniors - Kyle Ahern, Endora Guillaume, and Theo Shusterman - to receive the 2020 Daniel S. Hall Social Justice Awards. The awards are presented annually to college-bound graduating seniors who have demonstrated an interest in advocacy on behalf of the LGBTQ community. Each of the recipients will receive a $2,500 scholarship.
The
Palm Beach County Human Rights Council
(PBCHRC) is Florida's oldest, independent, non-partisan, political organization dedicated to ending discrimination based on sexual orientation and gender identity or expression. The organization established the PBCHRC Charitable Foundation to fund educational scholarships and other charitable endeavors.
The Social Justice Awards are named after Daniel S. Hall, a local
attorney who manages a financial counseling company. Hall, Treasurer of the Palm Beach County Human Rights Council since 1990, is the Council's longest serving board member. As the father of three grown children, Hall has always had a strong interest in education. Over the years, has mentored several LGBTQ students.
Lake Worth Beach resident Kyle Ahern is a graduating senior at the Alexander W. Dreyfoos School of the Arts. A student in the Communication Arts Department, Vice President of his graduating class, Kyle served as the Editor-in-Chief of "Marquee", the school's yearbook. Kyle was also Speech Captain of the Dreyfoos Speech and Debate team. In that capacity, he in speech and debate competitions throughout the nation, arguing for legislative action to ban conversion therapy and advocating for greater resources for queer victims of intimate partner violence. In light of COVID-19, Kyle organized an online speech tournament that will donate all of the proceeds to the National Domestic Violence Hotline. Kyle will attend the Moody College of Communication at the University of Texas - Austin, where he will study journalism.
"This scholarship means absolutely everything to me," said Kyle. "I will use the funds learn the skills necessary to fulfill my dream of a career reporting on LGBTQ+ issues.
Park Vista Community High School graduating senior Endora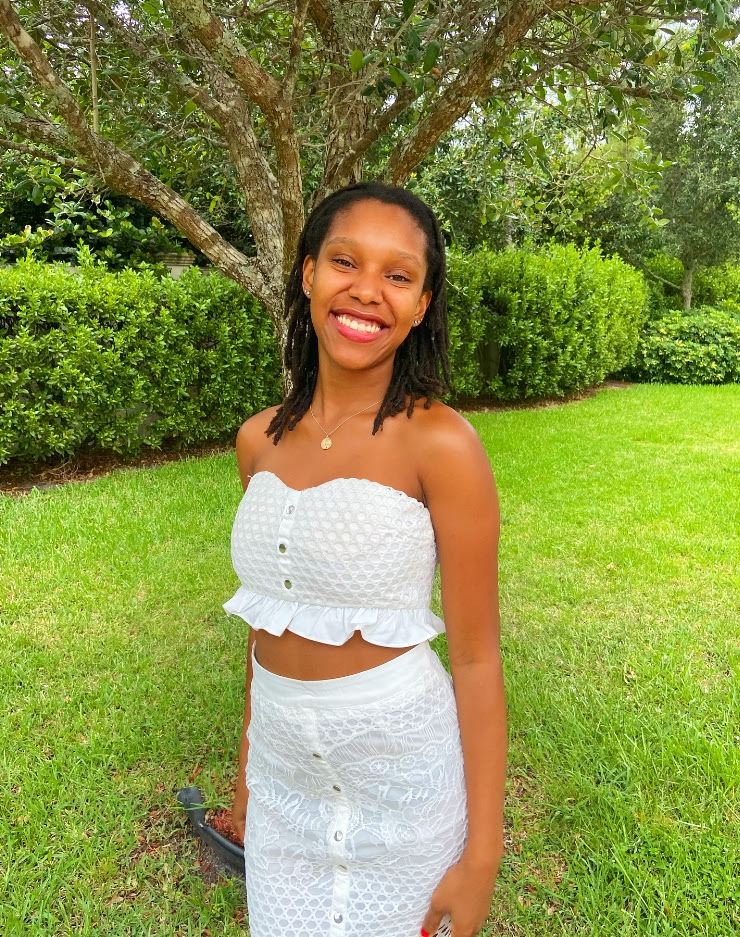 Guillaume is a passionate activist and outspoken woman of Haitian descent. A Lake Worth Beach resident, she is Bright Futures Academic Scholar as well as a Cambridge AICE Merit Diploma recipient. At school, Endora has been active in both the school's Gender-Sexuality Alliance and Black Student Union.
This Fall, Endora will attend her dream school - Howard University to study political science on the school's pre-law track with the intent of becoming a human rights lawyer and activist. At Howard, Endora intends to become active with the ACLU, the LGBTQIA Committee, the Black Student Alliance, and other social justice organizations. In addition, she hopes to intern for a Member of Congress.
"I am eager to use my education to make a real difference in the world and to ensure equal rights and fair treatment of all people, regardless of sex, religion, race, gender, etc.," said Endora. "This scholarship will make a tremendous difference in my education and will help me begin my life's calling"
Theo Shusterman of West Palm Beach serves as Co-Vice President of the Gender and Sexuality Alliance (GSA) at the Alexander W. Dreyfoos School of the Arts, where he organized the GSA Buddies Initiative and a community painting project. A gun-reform activist and Co-Director of March For Our Lives West Palm Beach, Theo will continue his social justice and advocacy efforts at Wesleyan University, where he plans to study political science and sociology.
"At Weslyan, I intend to study the relationship between LGBTQ+ people and other minority groups within the American political system," said Theo.
Since its inception in 2015, the Daniel S. Hall Social Justice Awards have been administered by PBCHRC Board Member Carly Cass, who will be passing the torch to
PBCHRC Board Member
Jasmin K. Lewis
, incoming Chair of the PBCHRC Charitable Foundation's scholarship program.
"Kyle, Endora and Theo have been passionate advocates for the local LGBTQ community," said Lewis. "The Foundation is proud to recognize their work by presenting them with the Daniel S. Hall Social Justice Awards."